AAP: Between us and our friends we can make anything happen.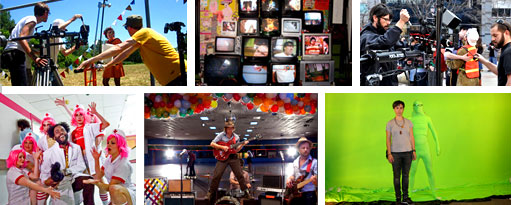 All Ages Productions is a collective of video artists making commercial work. The commercial world has always taken their cues from the art world. It's time to cut out the middleman.
We make work that is fun, daring, and entertaining. We believe that in this media saturated environment that it is risky not to be risky.
We work with an international and ever-expanding network of underground and established cutting-edge artists, musicians, programmers, designers, interactive media-makers, and performers.
Between us and our friends we can make anything happen.
Work that speaks for you should be as unique as you are. You are special.
Let's do something special together.
Making videos takes lots of time. We only have a finite amount of time on this planet.
Let's spend it making things that make us happy.

Ted Passon
Ted Passon is an award-winning filmmaker and artist living in Philadelphia. Named an "Upcoming Artist to Watch" by the Philadelphia Weekly, Ted has exhibited his work in film festivals and galleries around the US and abroad. He has produced and performed in live music and video performance projects with Tender Forever for the Whitney Museum and FIAF in NY and the TBA Festival in Portland. He has won over six awards at various film festivals.
Ted has also directed music videos for artists such as: Kimya Dawson, Dr. Dog, Plastic Little, and Sweatheart. His music for Plastic Little's track "Dopeness" was named "One of the Best Music Videos of 2007" by both GBH.tv and "The Reel" UK media industry magazine.
He has produced commercial projects for clients such as: Ford, Oprah Winfrey Network, Greater Philadelphia Tourism and Marketing Corporation, The Travel Channel, Discovery Channel, Big Smack TV, DISH Network, Versus, and others. His commercial for GPTMC's 2009 "Feel the Love Campaign" won an Adrian Award from Hospitality Sales and Marketing Association International (HSMAI).
Dave Dunn
David Dunn is a video maker and artist based in Philadelphia. His work has been shown at the ICA Philadelphia, Publico Gallery,  the Disposable Fiilm Fest (1st Prize), and the Black Maria Film Festival (Director's Choice). He currently co-directs the Small Change Film Screening Series, and was a co-founder/curator of Copy Gallery, a multi-disciplinary experimental space that operated from 2007 – 2010.
Lori D.
Lori D. is an independent animator / illustrator currently living in Portland, OR. Some of the things she makes with her hands are paintings, animations, zines, films, quilts, gardens, miniature sweaters, and pies. She earned a BA in film/video from UCSD and an MFA in Experimental Animation from CalArts. She has worked making art especially for the skateboarding industry for the last 10 years. She is part of the collective of female skateboarders known as Villa Villa Cola and helped create the women's skateboarding showcase show-off video called "Getting Nowhere Faster". She has a monthly column called 'The Learnings of' in Skateboard Mag. She also volunteers for the amazing one-of-a-kind Independent Publishing Resource Center. She shows and shares her paintings and films all over the place.