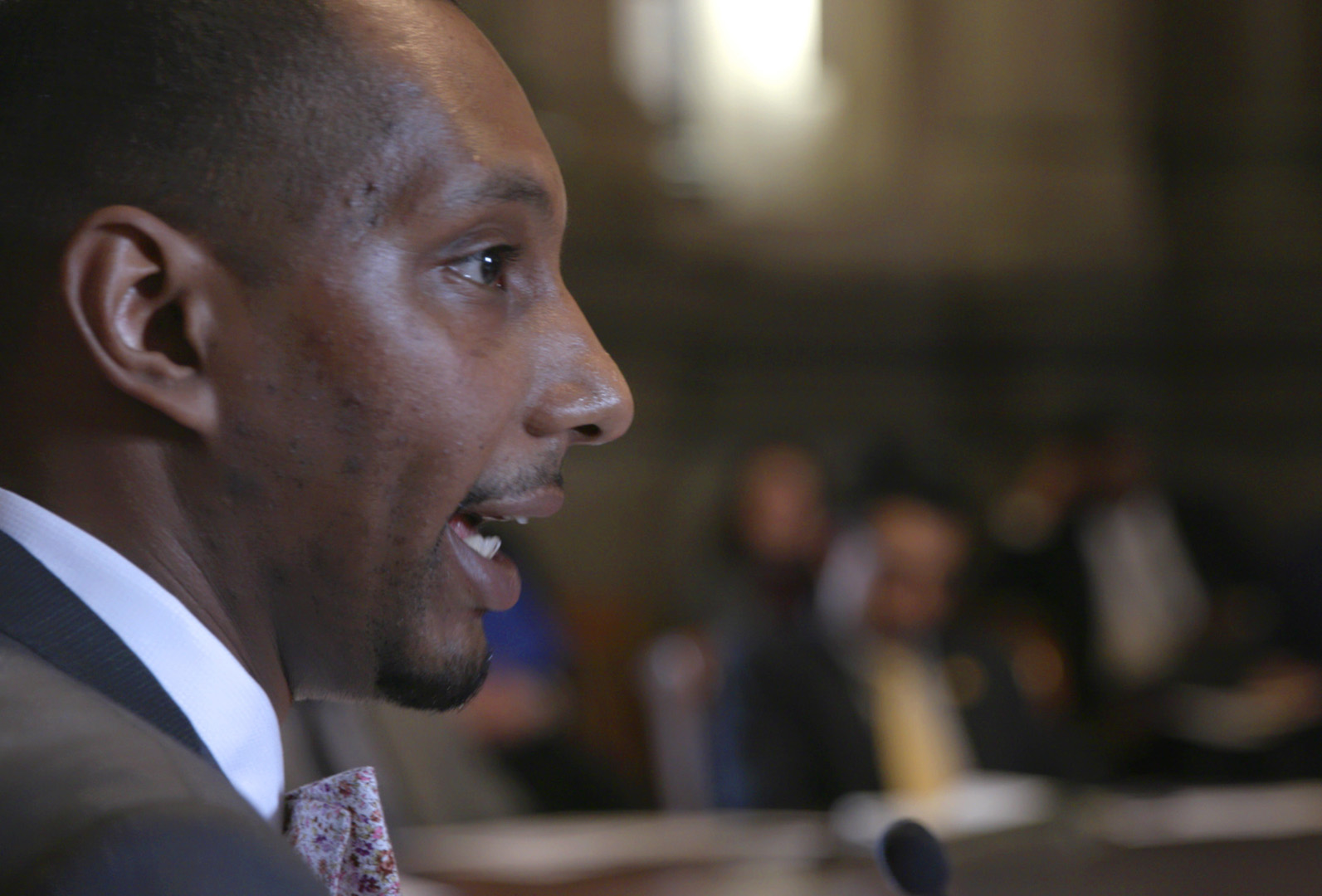 'Philly D.A.': TV Review | Sundance 2021
Daniel Fienberg
2/3/2021
In this eight-part series, 'Independent Lens' goes deep on the election of progressive civil rights attorney Larry Krasner as Philadelphia district attorney.
It's the most common question whenever an outsider — be it Ross Perot or Bernie Sanders or Donald Trump — runs for a position of power in an entrenched political system: Having big ideas or exciting the electorate is one thing, but when you challenge the political orthodoxy, how do you actually govern if you happen to win?
This is the backdrop of Ted Passon, Yoni Brook and Nicole Salazar's eight-part Independent Lens docuseries Philly D.A., which is premiering its first two hours as part of the virtual Sundance Film Festival and will launch on PBS later this year. Those first two episodes mark an extraordinarily promising start for the series, which boasts impressive access to Larry Krasner's Philadelphia district attorney's office and a nuanced approach that works hard to give this specific situation universal ripples.
For those who aren't tapped into municipal elections across the country, Krasner is a lifelong civil rights attorney who was elected district attorney of Philadelphia in 2017, part of a wave of progressive candidates voted into similar positions in cities including Baltimore and, more recently, Los Angeles.
Krasner built his reputation suing the Philadelphia Police Department at least 75 times and campaigned for office, after the previous DA's tenure ended in multiple scandals, promising wide-ranging reforms including an end to cash bail, revised sentencing standards and the adjustment of law enforcement priorities relating to marijuana possession and sex work. Krasner won in a rout, but only after facing push-back from establishment figures in the DA's office and most law enforcement organizations.
The series picks up with Krasner settling into this unexpectedly obtained office and trying to navigate all the minefields — principally, how to develop and focus a staff, many of whom you've fought against in court over the years, and how to collaborate with a police department that you've accused of racism and wanton violence.
Directors Brook and Passon build out their story on several levels. At the most micro, it's the story of an unlikely man who spent his life fighting The System and then, at the age of 56, decided that he would become The System. Krasner is personally defined by his relationship with his father, a writer of pulp crime fiction whose time in a wheelchair taught young Larry lessons about fighting against powerful institutional bullies, which carries over into his professional identity. Krasner and his wife, a Philadelphia-area judge, have the sort of endearing marriage between clever, passionate people that you wish more TV shows and movies might construct.
Then there are the machinations in the offices of the district attorney, next door to City Hall, where Krasner's newly recruited assistant DAs and staffers have to figure out how to work with the existing team. It's a task made even harder when Krasner fires 10 percent of the office at the end of his first week in office, setting up relationships that are nervously optimistic and straight-up antagonistic. Thus far in the episodes I've seen, Brook and Passon don't have much access within the police department. As a result, those institutional conflicts have to be conveyed through angry talk-radio appearances by Fraternal Order of Police bigwig John McNesby. But within the DA's office, they at least have a number of featured figures who express cautious skepticism.
Finally, on the most macro level, there are Krasner's pet social justice issues, presented in ways that weave them into the context of the city. To illustrate the issue of cash bail, the filmmakers spend time with Reuben Jones of the Philadelphia Community Bail Fund as he withdraws money to post bail and fills a van with people who have spent days, weeks or months in jail without being convicted of any charges simply because they couldn't afford to pay the charges, even very modest ones. In an episode looking at the "Damaged Goods" file of Philly cops whose testimony would be more damaging than helpful on the stand, the directors capture the blowback from shoddy police work on an ill-fated murder case.
With the help of journalists and local activists, this is all tied together with a history of recent Philadelphia politics, policing and troubled community relations, touching briefly on the likes of Frank Rizzo and the 1985 MOVE bombing. Using in-depth specificity as a gateway to universality, you can see how these issues impact every urban area, and you can see the allure that progressive candidates would have in cities with the highest rates of incarceration, in the nation with the highest rate of incarceration in the world.
The series is clearly enamored with Krasner's aspirations, but it isn't blind to his early failings, most stemming from a predictably myopic refusal to understand that the job he was elected to do requires tactful politics and negotiation. It remains to be seen how pragmatic the show's approach to Krasner will be and in what directions the series will open up in subsequent episodes. Based on the first quarter of Philly D.A., though, I'm looking forward to watching the rest.
Director: Ted Passon, Yoni Brook, Nicole Salazar
Client: PBS, Topic, BBC