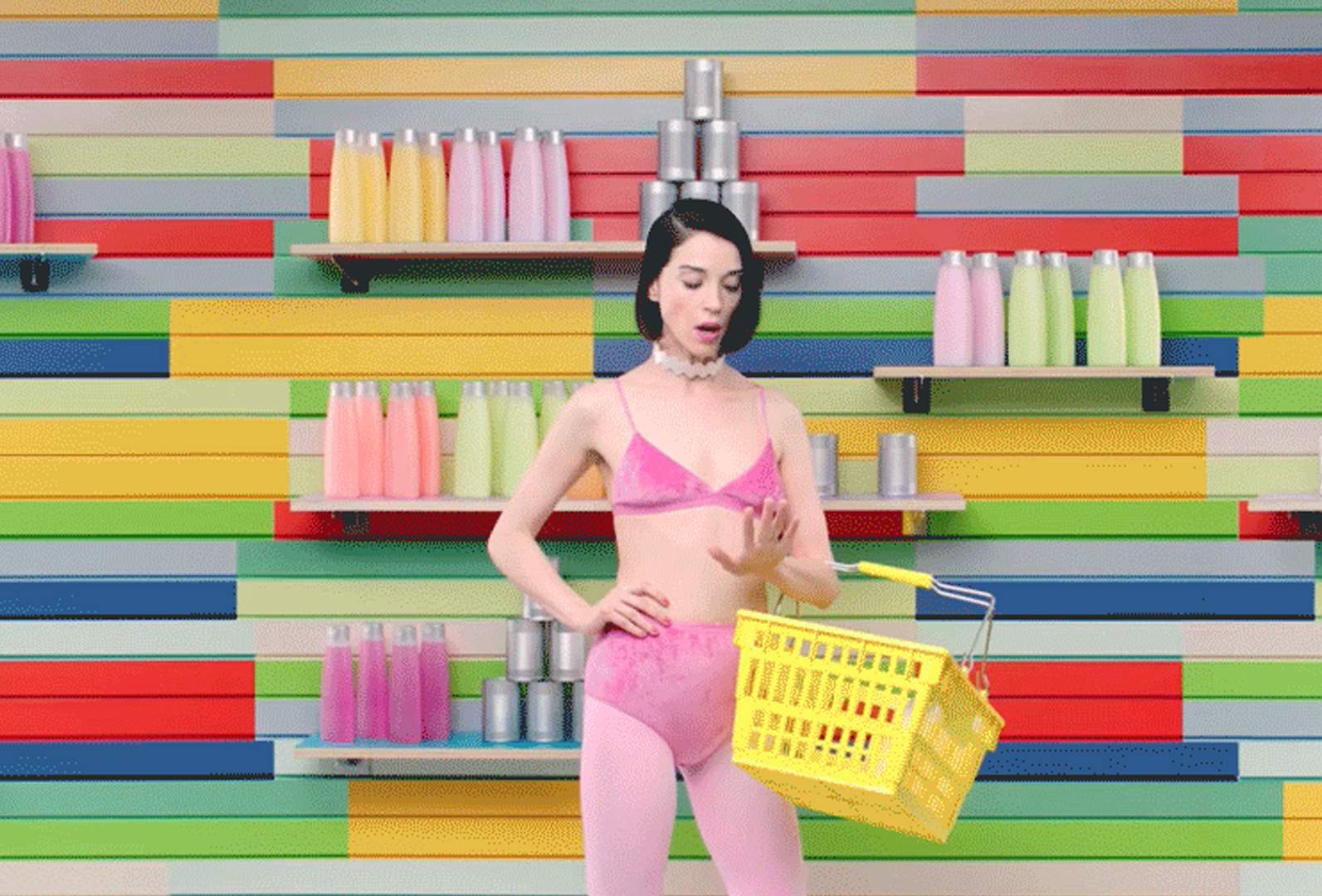 See the Surreal, Seductive Style in St. Vincent's "New York" Video
Rachel Hahn
August 31, 2017
St. Vincent, the moniker of guitar virtuoso Annie Clark, has been pretty quiet since the release of her Grammy-winning album in 2014, but she's been slowly disclosing details about her next as-yet-untitled full-length. So far, we know that she's tapped producer Jack Antonoff to work on it, that it will be about "sex, drugs, and sadness," and that the cover art will likely feature model and Clark's research assistant Carlotta Kohl's backside in pink tights and a leopard-print bodysuit.
Earlier today, Clark shared a surreal new video for "New York," the first real taste of the album thus far. Directed by visual artist Alex Da Corte, the clip takes place in what Da Corte describes as a "blurry and fractured, dreamy and flat" version of New York City. It has Clark wearing a number of colorful, highly textured outfits: The opening scene shows Clark in all white at a corner flower shop, before she puts on a translucent raincoat and then sets a head of lettuce on fire while wearing a puffy-sleeved black dress. Later in the video, she dons a bright green leather jacket with matching thigh-high boots, then mournfully leans on a disco ball in a shiny gold dress with tawny tights. It's a visual feast of vibrant, slightly absurd outfits, all of which you can see in the video below.
All Ages Productions | Full Service Film and Video Production Since 2012 | "Everything is Possible" | info@allagesproductions.com
Director: Alex Da Corte
Client: 4AD