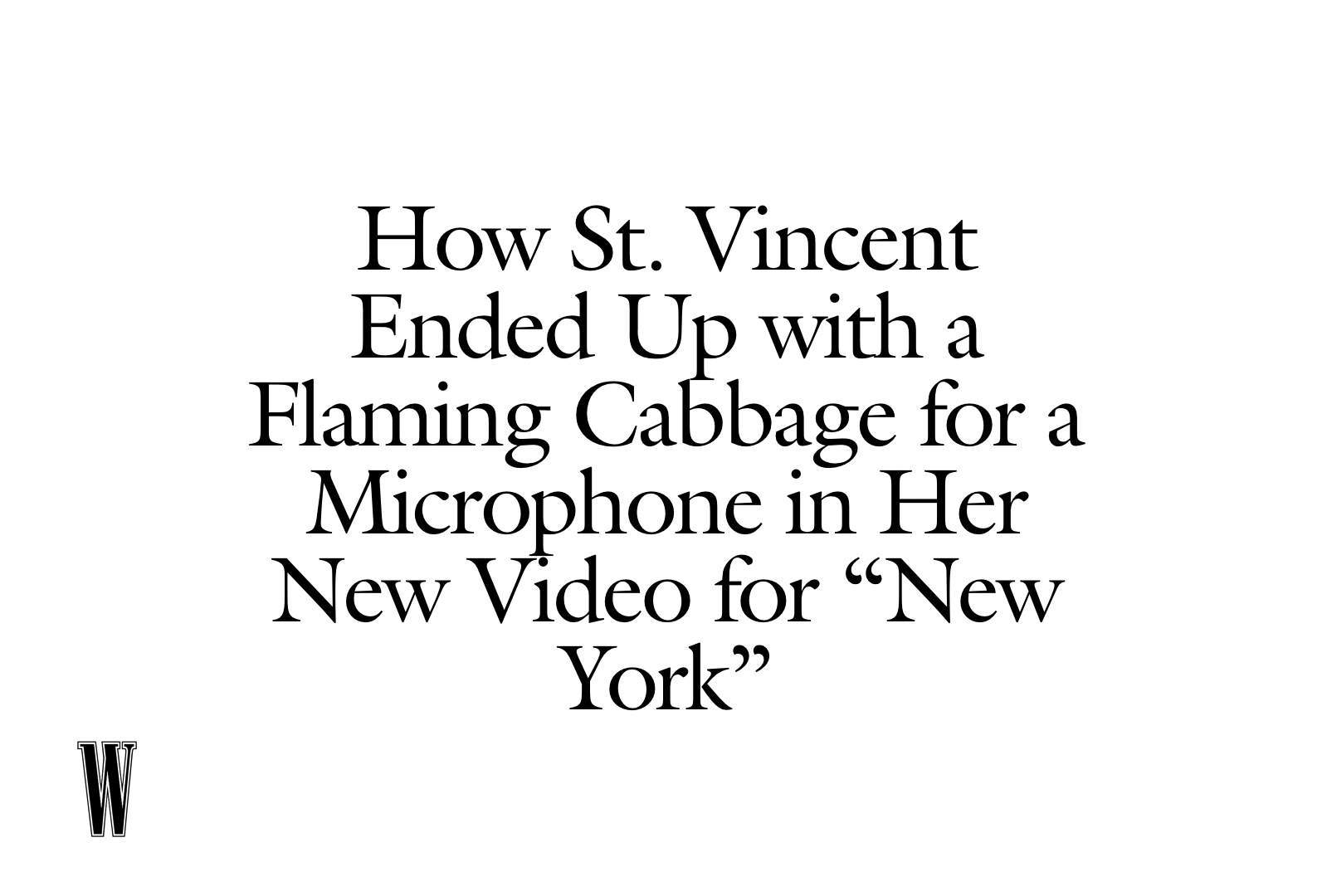 How St. Vincent Ended Up with a Flaming Cabbage for a Microphone in Her New Video for "New York"
Stephanie Eckardt
August 31, 2017
"It was a really crazy day," the artist Alex Da Corte said with a laugh, recalling the events of July 5, the day he opened an elaborate solo exhibition in Vienna—and got a phone call from the creative director Willo Perron, asking if he'd be interested in working with a mutual friend of theirs: Annie Clark, aka the musician St. Vincent.
Perron had a hunch the two would connect, and for Da Corte, the answer was of course unequivocally yes. The artist was and is "100 percent" a fan of the "brilliant" songwriter, he said, and probably would have spent the summer listening to her then just-released single "New York" on repeat just like the rest of her exuberant fanbase anyway. After a phone call with Clark a few days later, though, he was tasked with coming up with a few concepts to bring the song to life in a music video, which he'd have to turn around at a "pressure cooker" pace. (Shot earlier this month, it just came out today.)
It was Clark, in the end, though, who had to work around Da Corte's schedule—and that of a swan named Boo. Da Corte's specialty, you see, is in creating all-immersive, often technicolor multimedia installations that rely on all manner of props—something his massive studio in a former candy factory in Philadelphia is well-stocked with, except Da Corte was far away in Europe, wrapping up his exhibition.
Once he returned and the pair got to work, though, it turned out they didn't need his vast archives. Take, for example, the live swan they decided would make a good partner for Clark in scenes throughout the video—an idea that led to a short stint with Boo, "a trained swan that has lots of gigs," and the animal's caretaker named Bambi, who whisked her charge away all too soon for Clark and Da Corte, who'd been enjoying the "super special and magical" but also "really busy" creature's company.
"Boo had another gig to go to!" Da Corte recalled.
In the scenes where she sits perched on an outcropping on the facade of a building in downtown New York, Clark did not actually sit on one of the aluminum bars dozens of feet above the ground that make up the art installation The Wall on Houston Street—"visual trickery," was all Da Corte would say—though Clark definitely was in Astor Place to push the legendary cube to her lyric, "too few of our old crew left on Astor."
Throughout most of the video, all of which was filmed in New York, Clark simply sings along while immersed in her various eccentric environments, whether petting Boo in a carpeted, heavily lavender setting, or standing underneath a clear umbrella holding onto a lip-shaped telephone. A few times, however, she also sings into a flaming head of cabbage rather than a microphone. "I had originally presented an idea to Annie about doing karaoke, and it kind of mutated into this particular scene," Da Corte recalled of how that set-up transpired.
But a vegetal speakerphone is actually a signature move of Da Corte's; earlier this year, he made a video for the Whitney Museum that featured a man doing karaoke in Times Square using a microphone that was on fire, and he's also made sculptures of various edible mics in the past. The artist, after all, has always had a somewhat whimsical approach to his often ultimately surreal practice—one that'll next be showcased at the end of September, when he unveils his latest project, an installation in the New Museum's storefront, appropriately enough in New York.
And while Da Corte would prefer to keep working with Clark—"all the time," in fact, since her general openness to getting weird made "working with Annie the best thing ever"—for the moment, he's fine with being relegated back to fan status. Not that he's not still hoping for an advance of her album, which has yet to be announced: "I'm excited to hear it, just like everybody else is," he said wistfully.
Director: Alex Da Corte
Client: 4AD